Bullfrog Spas Gives a Free Hot Tub to Lucky Family
Free Really Means Free, Bullfrog Spas Gives a Free Hot Tub to Lucky Family
Bullfrog International, manufacturer of portable spas and hot tubs, recently gave a Santa Clara, Utah family a completely free Bullfrog Spas Model 362 hot tub in a giveaway highlighting the health benefits of spa hydrotherapy
(Vocus/PRWEB ) June 24, 2010 — Bullfrog International, LC is excited to announce that Rhonda Blake of Santa Clara, Utah is the winner of a drawing for a free Bullfrog Spa. The Blake family recently received their Bullfrog Spas Model 362 hot tub at their home and loves it. Rhonda tells Bullfrog, "Our 4-year old daughter, Kaylie, has been telling everyone that she won a hot tub. It's so great!"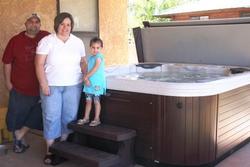 The spa was given to the Blake family as the winners of a random drawing from entries received by participating Bullfrog Spas dealers. The spa was delivered and installed for the family by Bruce Hardy, owner of Tropical Pools and Spas of St. George, Utah, an authorized Bullfrog Spas Dealer.
The market for most luxury products is sluggish, so it's increasingly rare these days for a company to give away a product that retails for thousands of dollars. Over the course of the drawing Bullfrog sales people were often asked about the catch.
Bullfrog's Jaden Kemp, Director of Sales and Marketing explained the reasoning for giving away a spa completely free: "There's really no catch. We simply want more people to understand how different and how much better we feel our spas are, so we are willing to give one away occasionally to generate leads and to highlight our unique massage experiences."
Kemp explained about the difference between Bullfrog Spas and conventional spa brands, "Our JetPak System is a completely different way to build a spa. It provides more power so you can actually run all of the jets at the same time, it makes the spa virtually leak-proof, it's a more energy efficient hot tub so it costs less to operate and it provides therapy that helps your whole family to be healthier and happier."
Stephen Blake was never hesitant to enter the free spa drawing, "We knew that we would be getting called by a sales person when we entered but I didn't care. After seeing Bullfrog Spas and JetPaks in the store I didn't mind talking more about them with someone. We were interested in learning more about Bullfrog and we were considering buying one." "Of course we didn't think the call we would get would be someone telling us we actually won a free spa."
The Blakes absolutely love their Bullfrog Spa and say that it is helping everyone relax, including relieving pain and loosening tight muscles for Stephen's brother after completing an Ironman™ triathlon.
Warm-water therapy in portable spas is gaining in popularity with physicians, therapists, and at home due to recent studies that have revealed important health and psychological improvements from aquatic therapy. Because the advanced massages provided by JetPaks are customizable to fit individuals of different ages and sizes, Bullfrog is gaining notoriety as the leader in at-home hydrotherapy for better health and wellness.
Due to the great response to this free spa giveaway and to continue to get the word out about the health benefits of hot water therapy, Bullfrog Spas is running another free spa promotion at participating dealers for the second half of 2010.
To discover more about the health benefits of Bullfrog Spas and the current free spa contest call today or visit www.bullfrogspas.com to find an authorized dealer near you.