Bullfrog Wins Best of State for 6th Time
Bullfrog Spas Awarded 2011 Best of State Honor
Bullfrog Spas, manufacturer of patented hot tubs and hot tub jetting systems, wins 6th consecutive Best of State Award in the Pool and Spa category.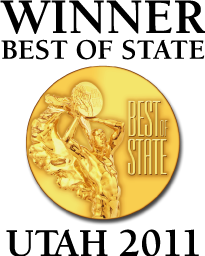 SALT LAKE CITY, UTAH –   The Best of State organization and Bullfrog International, manufacturers of portable hot tubs and the patented JetPak spa jetting system, announced today that Bullfrog Spas is once again the winner of the 2011 Best of State Award in the Pool and Spa category. This is the 6th Best of State Award for Bullfrog Spas. The award will be presented at the Best of State Awards Gala on June 4, 2011.
The official Best of State website states: "The Best of State Awards were created to recognize outstanding individuals, organizations and businesses in Utah. By recognizing excellence in our community and sharing examples of success and triumph in so many worthy endeavors, we hope we will all be inspired to reach a little higher, to try a little harder, and to work a little longer for our dreams and goals."
The Best of State Judges are looking for individuals, businesses, and organizations that:
Excel in their endeavors
Use innovative approaches or methods
Contribute to a better quality of life in Utah
Bullfrog exemplifies these ideals. With the patented JetPak System® and the hard work and ingenuity of a great team, Bullfrog International has grown from simply an idea for a better hot tub to what is now a strong selling international brand with industry-changing technology.  The company has now continuously outperformed the hot tub industry for more than a decade.
Dave Ludlow, President and Founder of Bullfrog International, expressed his thanks, "We are very pleased to have been honored with this award again. It's gratifying to be recognized here in the state where many of our team members live and work." "Of course there are many other vital Bullfrog team members around the world. We couldn't be successful without their important contributions as well."
About Bullfrog International
Bullfrog International, LC, is headquartered in the greater Salt Lake City, Utah metro area. Bullfrog designs and manufactures the world's only hot tubs with JetPaks® – modular jetted spa seats, which allow the user to customize, interchange, and upgrade the spa's jetting at anytime. JetPaks are backed by six U.S. patents with other U.S. and foreign patents pending. Because of the JetPak System, Bullfrog Spas provide powerful hydrotherapy, are virtually leak-proof, and are extremely energy efficient. Bullfrog International currently distributes, licenses, and retails its products in the United States, Canada, Australia, Asia and Europe.
Bullfrog executives, including the Founder and President, David Ludlow, are available for interview.